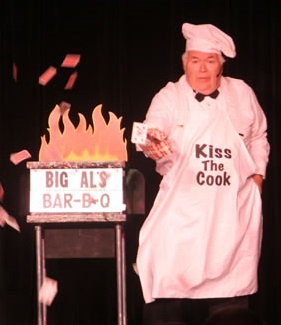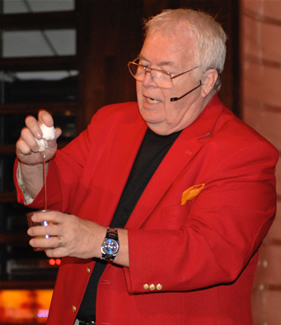 Lampkin is a fascinating sort of guy whose star in the world of entertainment is continuing to rise. Heís really a great talent and a nice guy to boot. Thatís a rare combination in show biz. There is no smut in his club performances. Al is squeaky clean.
Post Advocate
He convulses audiences, bringing many of them to the point of tears as he plunges ahead from one gag and trick to another - often so fast no one (except himself) can keep things straight. His trade mark is his smile, his size and his razor sharp wit that never seems to dull. No matter what the circumstances or the audience, he is able to quip his way with a touch that only he seems to possess.
Express News
Ava and I took seats up front to watch the Al Lampkin comedy magic act. Lampkin had the audience in the palm of his deftly fingered hand from the first "recycled Kleenex" trick to the slicing guillotine finish aided by his rapid fire delivery of quips and chit-chat and an occasional off-mike insult (a la Don Rickels) aimed at a hapless front row patron. The "volunteer" summoned from the audience to assist in the act was a perfect foil for Lampkin, and Gramma and I thought he deserved some sort of Solano County fair ribbon or award for his back-up (and potentially head-off) performance.
Don McIntire, Times-Herald columnist, Solano, CA
Lots of comedy...his act is a favorite with fairs.
Amusement Business
A clean Rodney Dangerfield with a little Henny Youngman thrown in. Heís still enthusiastic after a quarter-century in the business.
Burbank Daily Review
(Al Lampkin) caused a national television audience to howl with laughter.
Californian
Show business is in Al Lampkinís blood...
Tri-County News
Lampkin sprays his audiences with his machine gun style humor and fun. Whatever Lampkin does, he does it with such superb skill and timing...No one leaves an Al Lampkin show in a bad mood...most of them leave on their hands and knees...they are so weak from laughter.
On Stage, Reno, NV
Audiences can take their choice: Al Lampkin is either a funny magician or a comedian with a flair for magic. A clean Rodney Dangerfield.
Los Angeles Daily News
Mountains of energy...and a head stuffed full of hilarious jokes.
The Post
---
ENDORSEMENTS
Thanks Al... You were awesome!! Everyone was talking about how great your performance was.......

Angela Beougher
Caremedic,
READ MORE...
---
Planning Banquets
Tips From the Comedy Magician Himself on Planning Banquets and Parties
Request a Quote from Al Lampkin.
Have Al Email You His Latest and Greatest.