MAGIC BOOKS FOR SALE
---
The live lecture series is over, but the notes linger on
AL LAMPKIN LECTURE NOTES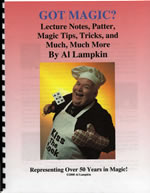 $20
GOT MAGIC?
Representing over 50 years in magic, these are more than just lecture notes, the 8 1/2" x 11" 50-page comb-bound booklet contains tricks, photos, stories, patter, magic tips and much more. Tricks include two versions of a torn and restored bill, torn and restored napkin, bar stunts, tips on the linking rings, improved Invisible Deck, dollar bill and card on the ceiling, cut and restored rope, Weller Bottle, Silk to Egg, pre-McCombical Deck, Whistling a Card, the three-card trick, and much more. Leaf bound, black-and-white mailed within three business days.
"Al Lampkin's lecture is the perfect lecture for magic clubs and amateur magicians in general because he teaches practical magic that the average amateur can and will use. At the same time, magicians who either do, or want to, perform for the public will benefit from his lecture as well."
"You need to be careful watching Al Lampkin's magic lecture - you may get so caught up in the entertainment that you forget to take notes. Don't worry, Al sells a nice set of lecture notes!"
David Goodsell
Past National President, The Society of American Magicians
"On February 18, 2013, we hosted a lecture by comedy magician Al Lampkin. This was an awesome lecture that had something for everyone. He presented effects that were simple yet played big on stage. Our club has both amateur and professional magicians and everyone said they walked away learning either something new or how to improve old effects to make them new. Club member Charles McCall said, 'It was one of the best lectures the club has had.' I personally took tons of notes and loved how Al simplified some effects that I thought were complicated, such as Cards Across. He presented it in a way that there is no way you can flash to the audience. This lecture was very well put together and entertaining at the same time. I would highly recommend having Al lecture for any club, and can't wait to have him back."
Published on page 17 of July 2013 issue of MUM.
Chris Lopez, Pres., SAM Assembly 69, Bakersfield, CA
"...Al closed his interesting lecture with a mentalism effect that involved the addition of random numbers he got from the audience. It was a terrific closer and he got the applause he deserved. It was just another great night of fun at Ring 96."
Magicdan, See full report published in Feb 2015 Linking Ring, pg 140
---
MAGICIAN AT LARGE
$15
The Autobiography of Al Lampkin
My Climb from Bar Room to Show Room
Over 50 pages, with photos, perfect bound

" It was a treat to have you with us! Thanks for a great show and lecture! I'm reading your book and your life is amazing! Not a workers story, but a journeyman's great adventure! And you're still having them! "
Mark Daniel, KIDabra producer
" Al, I received your book last night and want to say a BIG THANK YOU! I read it cover to cover and couldn't put it down. What a great life you have lead! I sure hope to make it out that direction and catch your act some day! "
Paul Levine, magician
"Al Lampkin has lived a life of magic, and seen and done things that many of us could only dream of. He's a performer of the first order, and he's done stage magic, closeup, bar magic, fire eating(!), puppeteering, juggling, acting -- you name it. Whether it's a school auditorium or a cruise ship or a Las Vegas casino or the Magic Castle, Al has amazed and delighted audiences for over five decades. He's a do-it-all performer who now shares his choicest experiences with those of us who wish we could have lived his life."
Steve Dawson, magician and former California Magic Dealer
---
THE FUNNIEST MAGIC SHOW IN THE WORLD:
A COMPLETE SCHOOL ASSEMBLY MAGIC SHOW IN EITHER BOOKLET OR DVD.
55 PAGE BOOKLET OF ENTIRE 40-MINUTE SHOW INCLUDING PATTER EXACTLY AS PERFORMED BY AL IN OVER 1,000 SCHOOLS NATIONWIDE!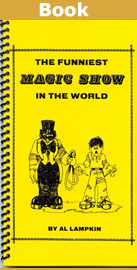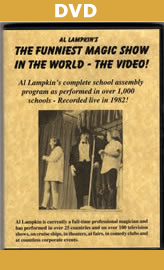 The Funniest Magic Show in the World became a best seller and has been reprinted many times and is still sold world-wide. It became the handbook for children's entertainers throughout the Magic World and many magicians say the book was the basis of their children's show. Routines included are: Torn and Restored Napkin, Flight of the Paper Balls, Coin in the Banana, Foo Can on Head, Twentieth Century Silks, Card In Balloon, Say Yes Coin Tray, Cut and Restored Rope, Cooking Routine, and Knot from Rope.
Also available is a DVD of the show. This rare footage, originally shot on VHS video in 1982, was recently found on the back shelf of an agent's office and immediately transferred to DVD. This show did not include the Say Yes Coin Tray routine as the school wanted to keep the show down to 30 minutes. Otherwise, the show is just as described in the book. Running time approx. 29 minutes.
"You, sir, are BRILLIANT! I just watched a video of part of a school show you did probably sometime in the early eighties. I've done a thousand or so school shows myself, and I know what I'm watching You were GREAT! The way you handled the kids, the little bits of business - from cuing the kid to eat the banana in the "vanishing coin to banana" trick to having the girl stand on the newspaper to make her taller - just excellent work, my friend. And when I see how LITTLE you had to schlepp in and out.. And how you deputized a girl to strike your stuff for you and "just set it there on the yellow shelf"? Brilliant! I had to take a moment to write and tell you how much I appreciate what you do."
Dave Cox, magician
"When I fist started in magic I asked 3 different working magicians what they would tell a magician just starting out. They all had differing advice but they all agreed on one thing: If I wanted to perform magic for kids, I HAD to get Al Lampkin's "The Funniest Magic Show in the World." Then I joined the IBM and met the legend himself."
A. J. Longhurst
President, IBM Ring 193
"Al Lampkin, the All-time greatest school assembly magician on the planet! And as I remember a wonderfully kind and funny guy! Thanks for sharing your Magic book with me years ago. It gave me the foundation of my own show which has allowed me to perform and do what I love to do, entertain."
Mark Price, magician
---
COMEDY JUGGLING ROUTINE AND PATTER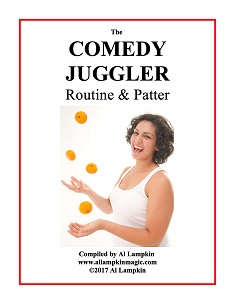 $5
I have spent most of my career as a comedy magician, but for a brief period of time I also did a juggling act. This booklet contains my entire routine and patter plus I have included several other lines that certainly could be used in a juggling act.
5-page booklet will be sent as a PDF to your email

---
TWO PERSON COMEDY MIND READING ACT
$5
This routine hearkens back to the days of vaudeville. It is so old that it's new again. Asked of the "Princess," sitting on stage blindfolded, while the performer holds up an audience member's pencil, "What is this? Come to the point." Princess: "An ice pick." "No, it has an eraser on the end." Princess: "A razor on the end? Oh, an extension cord." And more corny but funny 2-person jokes. It's from my files of the early 70's. The routine can be a real laugh-getter with the right two people.
7-page booklet will be sent as a PDF to your email

---
ENDORSEMENTS
Thanks for the GREAT magic show you presented to Delta Kappa Gamma! A lot of people have told...

Freyja Thompson
READ MORE...
---
Planning Banquets
Tips From the Comedy Magician Himself on Planning Banquets and Parties
Request a Quote from Al Lampkin.
Have Al Email You His Latest and Greatest.